Jobe's Organics All-Purpose Liquid Fertilizer
OVERVIEW: Jobe's Organics Liquid Hose End All Purpose Fertilizer is an organic, environmentally friendly solution for healthy, beautiful plants. Jobe's exclusive formula provides organic plant nutrients and beneficial microbes uniquely combined to enhance soil conditions, stimulate plant growth and increase resistance to disease, insects and drought.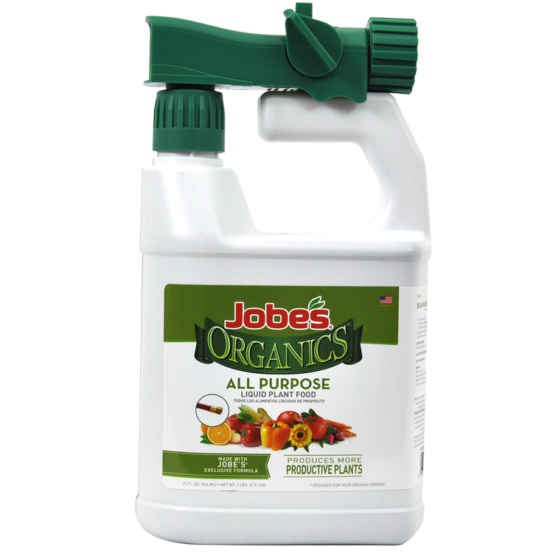 Product Overview
SIZES: 
32 FL OZ.
WHEN TO APPLY:
Apply every 7- 14 days or as needed
IDEAL FOR:
All purpose


Kid and pet friendly
No harmful chemicals that could burn the plant.
More beautiful blooms and better harvests from your organic garden
No harmful chemicals that could burn plant
Organic
Provides your plant the food it needs while still being safe for the environment. OMRI listed for organic gardening.
Plants absorb the liquid formula immediately for better health
Rich nutrients that are safe for the environment
A major component of chlorophyll, the compound plants use in photosynthesis. Nitrogen helps plant foliage grow strong with healthy, robust leaves. Critical for the beginning stages of a plant's life.
Helps plants develop solid root systems and strong, vibrant blooms. Also important in cell division and development of new plant tissue, phosphorus speeds development and maturity.
Important for overall plant health, potassium aids in water movement, producing sweeter, tastier fruits and more robust blooms. A vital component in nutrient absorption, respiration, transpiration and enzyme activity.