Jobe's Organics Fruit & Citrus Granular
Jobe's Organics Fruit and Citrus Granular Fertilizer with Biozome, is specially formulated to provide fruit and nut bearing plants the nutrients they need to bear abundant healthy fruit, citrus and nuts.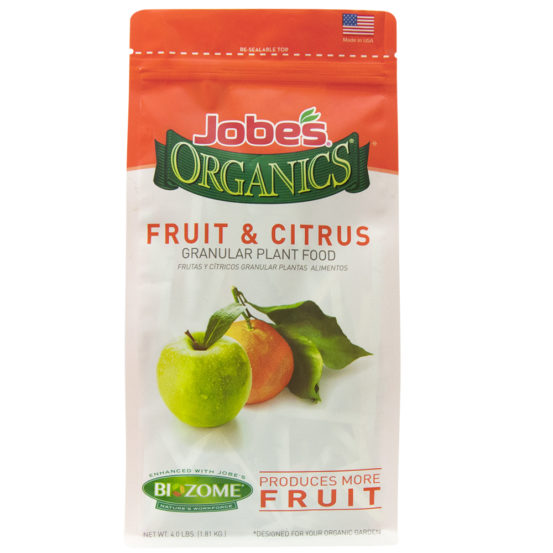 Product Overview
N : 3
P : 5
K : 5
SIZES: 
1.5 lbs
4 lbs
6 lbs
16 lbs
WHEN TO APPLY:
Every 2-3 months
IDEAL FOR:
All fruit citrus and nut trees



Kid and pet friendly
No harmful chemicals that could burn the plant.
Organic
Provides your plant the food it needs while still being safe for the environment.
Jobe's Biozome® is a combination of healthy bacteria, Mycorrhizal fungi and Archaea. This unique blend of beneficial microorganisms improves the long-term soil quality of your garden, promotes plant growth and helps your garden resist disease, insects and drought.
Rich, natural source of phosphorous and calcium that promotes blooms, fruit and root growth
Rich, natural source of nitrogen for greener leaves and overall plant growth
High in nitrogen, calcium, sulfur, phosphorous and potassium plus organic matter to improve soil condition