Ross® Evergreen Root Feeder Refills
Make sure your evergreens and other acid-loving plants are healthy and thriving all season long with Ross® Root Feeder Refills for Evergreens. Use refills in your Ross® Root Feeder to get the perfect balance of nutrients directly to plants' roots – while you water at the same time! With other fertilizers, you don't know how much of the fertilizer is actually reaching your plant. The refills are specially formulated for acid-loving plants, such as evergreens, azaleas, magnolias and many others. Ross® premeasured refills make for fast, easy and mess-free fertilizing.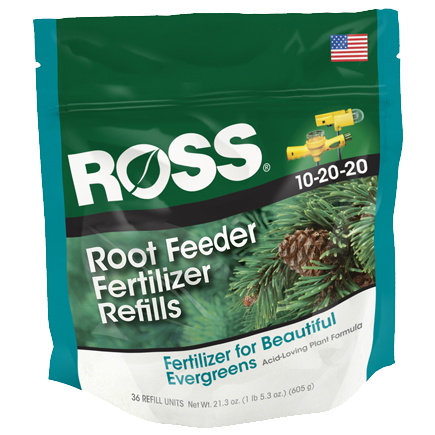 Product Overview
N : 10
P : 20
K : 20
SIZES:
12 count
54 count
WHEN TO APPLY:
Spring, Summer, and Fall
IDEAL FOR:
Evergreen Trees
A major component of chlorophyll, the compound plants use in photosynthesis. Nitrogen helps plant foliage grow strong with healthy, robust leaves. Critical for the beginning stages of a plant's life.
Helps plants develop solid root systems and strong, vibrant blooms. Also important in cell division and development of new plant tissue, phosphorus speeds development and maturity.
Important for overall plant health, potassium aids in water movement, producing sweeter, tastier fruits and more robust blooms. A vital component in nutrient absorption, respiration, transpiration and enzyme activity.