This is where I let all of my dirty laundry hang out to dry. Here's the thing: I have a garden that brings me immense joy, even when it is over-run with weeds and looks, well, not photo-studio ready. I take a lot of pleasure in walking around the garden, looking at individual plants blooming, and snapping photos for my Instagram. There are times of the year when a wide shot shows the viewer a pretty flowerbed and times when a wide shot shows the viewer a mess—at least for my front garden. (My back garden is another story entirely. Perhaps we will investigate that at another time.)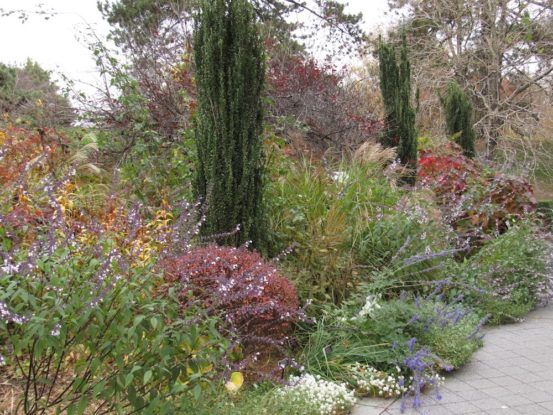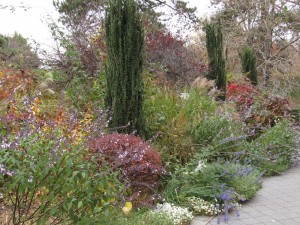 I guess what I'm saying, in service to Jobe's Organics gardeners, is I'm willing to show you some of the not-so-gorgeous views of my garden, offer some opinions on how certain sections got that way, and give you some tips on what to do if you're having the same issues.
What I Want My Garden to Look Like
I'd like my garden to look kind of like these pictures of the perennial borders at the New York Botanical garden.
"What?!?" you might be saying. No way. There is no way your garden could look like that. To which I would say—it has and it will again. The garden doesn't look the same but it looks pretty dang good! And it has similar design elements to the NYBG garden, including:
Colors repeated in different plants throughout the bed. (Burgundy, white, and purplish/pink are repeated in my garden, and burgundy, purple, and green or red and chartreuse are repeated in the NYBG gardens.)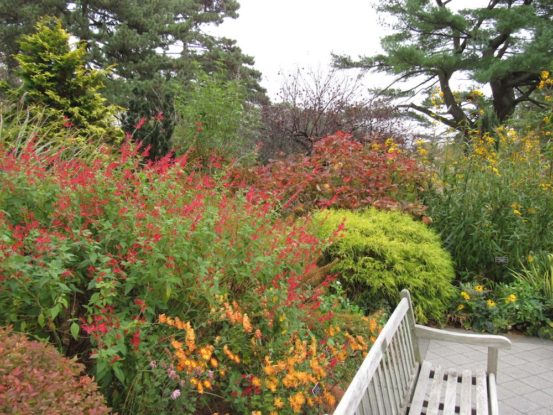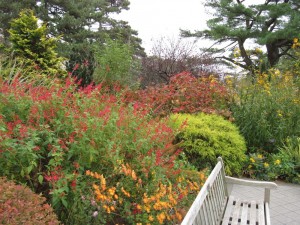 Forms repeated in different plants throughout the bed. (Foxglove and larkspur are both tall and spiky in my garden, and both NYBG beds alternate strongly columnar forms of plants with roundy-moundy forms of plants).
A mixture of woody (trees and shrubs) and herbaceous plants (annuals and perennials in my garden, and perennials in the NYBG gardens).
Adequate quantities to create a big splash.
Why I Need to Renovate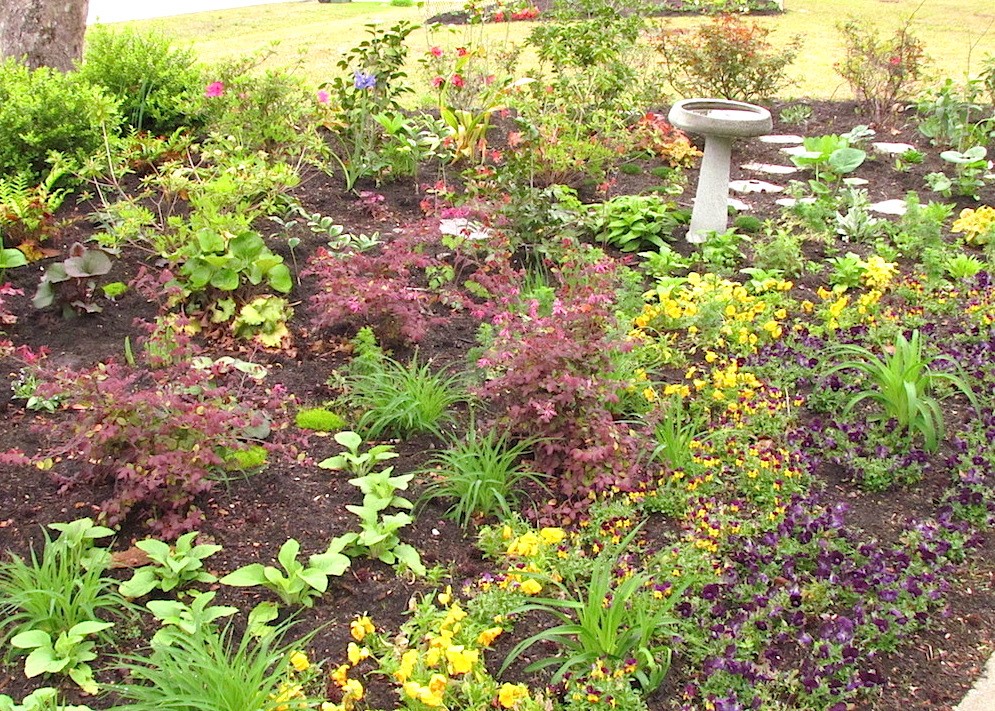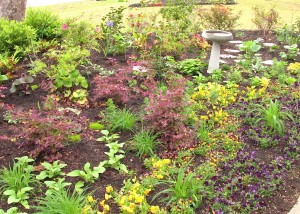 Well, this was my garden in April 2011, immediately preceding the giant and lovely bloom pictured, above. At that point the garden was three years old. In the April picture you can see that there are still spring annuals in the front (which I removed and replaced with summer annuals in similar colors), but you can see the little foxgloves growing (the light green rosettes of leaves), and the burgundy loropetalum shrubs blooming.
Everything is ENORMOUS and, quite frankly, overgrown. I maintain a little bit of design style: repeating the white and burgundy. Otherwise, what I have is a mature garden that needs a facelift.
Lessons in Sizing and Numbers
 The two sections of the NYBG gardens pictured and my front garden take up about the same amount of space. My problem is that I kept tending my garden as if it were brand new and I needed lots of small plants to fill it in. My garden flat out ignored this and kept growing.
Perennials aren't annuals. They hang around and grow and grow and grow. So do shrubs. I'm left with mature plants in a small plant design. I'm at a cRoss®roads. I have to decide, do I keep the large shrubs and re-work other areas around them, or do I take them out and plant newer, more compact varieties, and open up much-needed and hard to come by sunny space in the garden for different perennials.
The plants in the NYBG garden are larger. They're mature and they look great. If I wanted to go that route, I wouldn't rip out the burgundy loropetalums, I'd plant a couple more in other areas of the garden, so I still maintain that repetition. Or, I'd plant a couple of other shrubs with burgundy leaves. I would leave the white azaleas, which I have to chop in half, yearly, after they bloom and plant more of those in another corner of the bed. I'd pare down the numbers of perennials and relocate them to other areas of the garden. I'd let everything get big. It would be a larger version of what I started out with.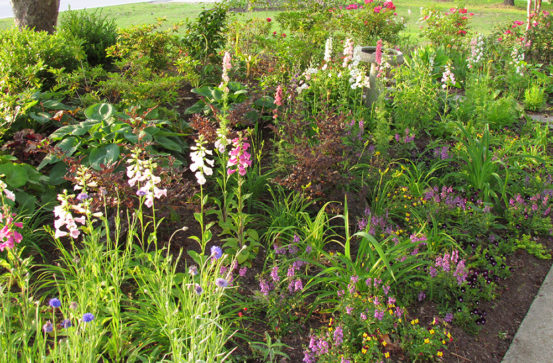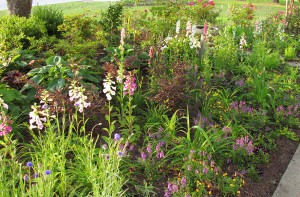 I'm going to go the other route, though. I'm going to take out the big, overgrown shrubs, because, quite frankly, they're just not that interesting to me anymore. I've learned better how things grow in my garden and what kind of space they'll need. In the nine years since this bed was planted, there have been many new varieties released to market. I want to try growing some of those. When I planted the garden, I was a transplant myself, and I had no concept of how fast plants grow in the Southeast when they have lots of water and a long growing season. (I moved from the Adirondack mountains.)
It would be easy to feel like a failure. I'm supposed to do this for my job, after all. But I'm not a designer. I'm a gardener and a writer. The idea of planting a garden that won't come into its own for ten years is not something I'm equipped to do or particularly interested in.
So, if you're in the same boat—everything is looking big and tired and floppy, decide—do you want to transition your bed to a mature garden of giants, or take some things out and start fresh.
Stay tuned for part two!
---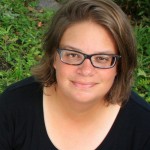 Katie Elzer-Peters gardens in the coastal town of Wilmington, North Carolina. She grows vegetables and has extensive mixed border gardens throughout her half acre property. She has a Bachelor of Science in Public Horticulture from Purdue University and a Master of Science in Public Horticulture from the University of Delaware and the Longwood Graduate Program. Katie has written eight books about gardening for Cool Springs Press.