When you're trying to grow your own edible food, tomatoes are a go-to crop due to their high success rate—not to mention their tastiness. However, there are still plenty of tomato-growing woes gardeners might experience that could be avoided with the proper preparation and knowledge.
From premature planting to improper watering, some of these tomato gardening mistakes can be grave. But with the help of tomato gardening tips from Jobe's Organics—as well as fertilizers such as our tomato granular—you can pave the way for an edible garden that rises from the dirt instead of bites the dust.
1. Planting Tomatoes Too Early
A notorious summer crop, tomato seedlings love the heat and hate cold temperatures. If the soil temperature does not reach at least 60 degrees during the day, then it's not warm enough for tomato plants. Young plantings should reach a height of about 6 to 8 inches before you transplant them.
Thus, don't rush tomatoes into the garden as soon as spring starts. Prematurely putting plants into the ground can cause blossom drop, where the blossoms fall off before the fruit even forms. Tomatoes may also become misshapen, puckered, or scarred at the blossom end if the weather gets too cool at night. That said, distorted-looking crops are certainly still edible—as some of the most beloved tomato varieties are not perfectly round or red.
2. Planting Tomatoes in the Wrong Location
Although tomatoes thrive in heat, it's important to keep their soil cool and moistened. Otherwise, dried-out dirt and plants can lead to diseases. In addition, it's best to avoid planting tomatoes where potatoes or peppers have grown within the past couple of years. Choose a relatively open spot on your plot where your plants can receive eight hours of sunlight per day that can also accommodate well-drained soil.
You may want to mulch tomato plants to retain moisture and prevent evaporation. To help control weeds, prevent disease spread, and allow water to seep deep into the roots, layer mulch 2 to 4 inches deep around the plant. Then, pull the layer back about 2 inches from around the stem itself, forming a small well around the base of the plant.
3. Planting Tomatoes Too Close Together
Of course, you want to get as many tomatoes as possible out of your hard work—but don't pack too many plants in one area! Planting too close together restricts airflow and produces excess shade from neighboring foliage. Make sure to read your seed packets or online for optimal, more specific spacing metrics for your kind of tomatoes.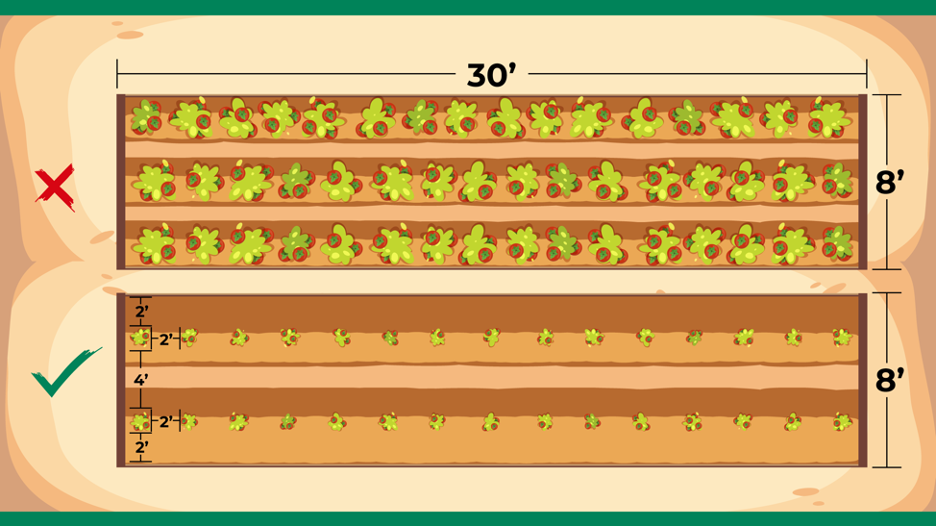 In general, space out determinate tomato plants about 18 inches to 2 feet apart, leaving each row 4 feet apart. Place indeterminate tomatoes 2 to 3 feet apart with rows left 5 to 6 feet apart. How do you know which tomato type is best for your gardening goals? Learn a little more about the difference between determinate vs. indeterminate tomatoes.
4. Planting the Wrong Type of Tomatoes
Selecting a type of tomato, namely determinate or indeterminate, is a crucial part of the process and depends on what you're looking to get out of your yield. Determinate tomato plants can be easily managed in the typical home garden. This variety will ripen all at one time and top off at about 3 feet in height, which is often ideal for small-space gardeners who wish to can or preserve some of the produce.
Indeterminate tomatoes, on the other hand, can continue to grow almost indefinitely (anywhere from 6 to 20 feet tall). These are great for those who want a continuous harvest of tomatoes for salads and other homemade dishes. An indeterminate plant can continue to grow and produce fruit all summer into fall until the first hard frost hits.
Keep in mind that these two main categories of tomato plants are among dozens of different flavors and varieties from which to choose.
5. Watering Tomatoes at the Wrong Time of Day
Avoid watering your tomatoes late in the afternoon and instead opt for the morning or dusk—whenever the sun and the temperature are lowest. Early in the morning is ideal, but evenings are OK, too, as long as you refrain from watering the plants while the sun is high and temperatures are soaring. Otherwise, it's difficult for the soil to absorb water before it evaporates.
6. Watering Tomatoes Too Often or Not Enough
How often do you need to water your tomato plants? Short answer: not too often. You're likely more at risk of overwatering than underwatering, as the former can negatively affect the flavor of your fruit. It's best to avoid shallow and frequent watering, which can sometimes cause diseases. You can even look into setting up a home drip irrigation system for your tomatoes to avoid watering too forcefully and eroding the soil.
As plants mature, and especially in the hot summer months, practice "deep watering" by slowly soaking the soil and allowing water (and therefore, roots) to sink deeper. After you soak the ground at the base of the tomato plants, allow the soil to dry for a little while before another dose of watering.
In general, you should deeply water once or twice a week. Sandy soil may only need irrigation every four to five days, whereas heavy soil can get away with every seven to 10 days. Of course, you should take into account weekly rainfall in your area.
Particularly near the end of the season, reducing irrigation can help you achieve that sweet spot for flavor. Still, make sure to keep your tomatoes plenty hydrated as they become established; then, as they begin to ripen, pull back on watering.
With that said, consistent moisture is key to thriving tomato crops. Though they benefit from their soil drying out a bit in between each watering, drastic or irregular changes in moisture levels can cause issues with your fruit, like splitting and blossom end rot. Tomatoes likely have blossom end rot if there is a soft or rotten spot at the bottoms, but you can still eat them if there is a small amount of rot that can be cut off. Check the soil daily by placing your finger an inch or two beneath the surface to ensure it is evenly moist.
7. Fertilizing Tomatoes Too Much or Not Enough
Plant ailments such as blossom end rot are often a sign of calcium deficiency due to uneven watering. The right tomato fertilizer should provide the natural nutrients your plants crave. Fertilize using a complete, organic formula with calcium along with NPK micronutrients (that is, nitrogen, and phosphorus, and potassium). But beware: Too much nitrogen can cause your crop to grow too quickly, resulting in less actual fruit and excessive leaf foliage that is prone to pest infestation. Choose a fertilizer with a good, balanced dose of phosphorus.
Ultimately, tomato plants love being well fed and can almost always benefit from fertilization—whether you go with a granular, water-soluble, or slow-release tomato plant food. You can apply Jobe's Organics Vegetable and Tomato Granular at planting, then every four to six weeks throughout the season. For a longer-lasting formula, Jobe's Organics Slow-Release Tomato Granular can feed up to three months.
8. Not Providing Proper Support
Many types of tomatoes, including both determinate and indeterminate varieties, require a support structure to keep them off the ground. This is in order to:
maximize garden space and maintain order by leading tomato plants into upward growth (as opposed to outward).
contain robust plants so they do not overshadow nearby fruit/vegetables.
prevent tomato plant disease and pest infestations.
create an easier harvesting experience.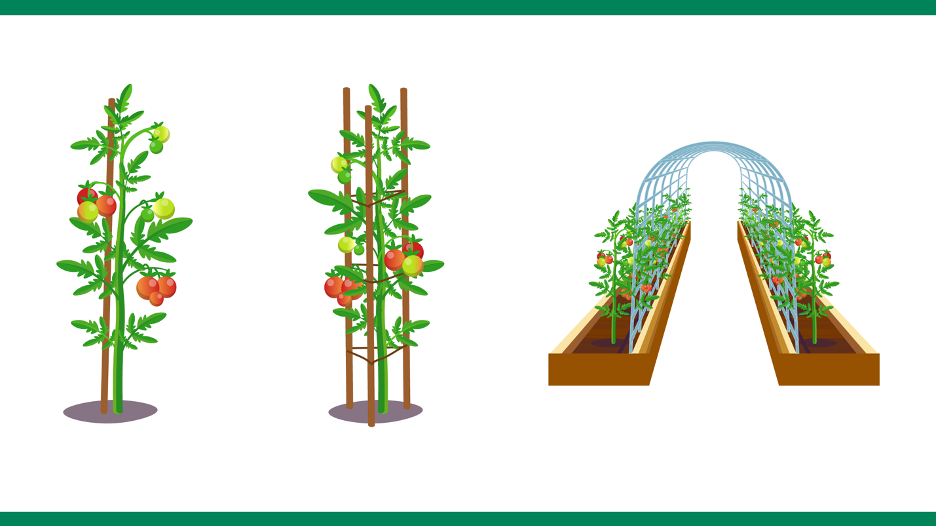 While your plants are still small, get them supported within a few days of their transplant to avoid root damage. These are a few common and effective ways to support tomatoes:
Staking is a method that utilizes metal or wood stakes, which can range anywhere from 3 to 6 feet long, depending on your tomato variety. Tie the plant's main stem to the stake securely but loosely, continuing to do so as it grows taller.
Caging is a simple method that relies on wire cages to contain plants and support their stems. Simply pull the stems through the wire as your tomatoes grow.
Trellising is also a functional and attractive support option, especially for indeterminate tomato varieties. You can use string, metal posts, or wire tied together in rows; just make sure it's sturdy enough to hold up the heavy limbs of your plants.
9. Under-Pruning or Over-Pruning Tomato Plants
Before you start clipping away at your tomato plants, take note: Do not cut or prune determinate varieties, as this can reduce harvest. Only prune indeterminate plants once they're about 6 to 8 inches tall, pinching or cutting back the leaves at the end of a stem to the next stem or node. This helps improve airflow and prevent disease, and your tomatoes will also likely ripen quicker and yield more, larger fruit per plant.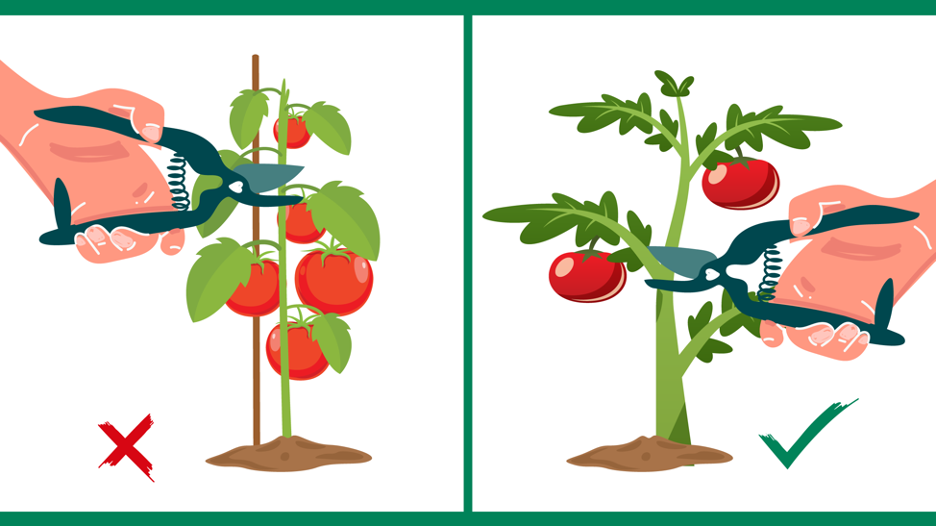 If tomatoes have any pale spots, it could be a sign of sunscald from over-pruning and thus over-exposing the plants. They should always have enough leaves to offer some necessary shade.
10. Letting Pests Eat Your Tomatoes Before You Can
You might think you're doing everything right when it comes to parenting your tomato plants, but unfortunately, there will be garden bugs that realize just how delicious your produce is, too. Here are a few tomato pests to look out for:
Hornworms may nibble on the edges of tomato leaves. If you see some of these tomato hornworms—green caterpillars that can be anywhere from 2 to 5 inches long—simply pluck or knock them off the leaves into a bucket of soapy water.
Spider mites may cause spots on the surface of leaves and gather on their undersides. Spraying both sides with a garden hose can get rid of them, but you might also try an insecticidal soap on the leaves.
Stink bugs may leave pale spots on tomato plants, as this pest enjoys sucking sap from their fruit. Although stink bugs can certainly be pesky, the unspotted parts of tomatoes are perfectly edible. To get rid of the insects as you see them, spray stink bugs using a bottle of warm, soapy water or drown them in a soapy solution.
Grow Better Tomatoes with Organic Gardening
A big part of our passion for organic gardening stems from a love for healthy, hearty, homegrown produce. Growing your own tomatoes is a fantastic first step toward a self-sustaining lifestyle, not to mention a lifetime hobby. From organic vegetable fertilizers to tips and advice for all your gardening endeavors, we at Jobe's Organics are committed to helping your tomato garden thrive.