There is no doubt about it — we're in the dog days of summer. And while I love summer, our gardens can take a real hit about this time of year. High heat, low rainfall, muggy air — you name it, and the garden will feel it. So how can you revive your summer garden to keep it looking fresh?

While it's important to keep in mind that the end of the summer is near, there are things you can do to keep your warm weather garden looking good and staying healthy.
Continue to water wisely. Water deeply but less often — daily sprinkling won't do a lick of good, folks. You want to encourage deep roots for the plant to thrive during drought or low water conditions. I aim for a weekly deep soaking, and my summer plants spring back to life.
Cut flowering perennials back. There are many plants that will respond positively when cut back a bit in the summer. I like to do this with some of my roses and my flowering perennials, as this practice can make them send out a late season flush of bloom. As always, check with your local extension office for recommendations for plants in your area.
Remove dead or diseased plants. Sometimes plants peter out a bit early due to harsh summer conditions, and if this happens, just remove them. You don't want disease spreading to other plants when you are trying to perk things up. And remember, dead plants go in the compost pile while diseased plants go in the trash.
Keep weeds at bay. Don't let summer weeds take over, or your valued plants will be doomed. If you've stayed on top of them throughout the summer, you shouldn't have too much trouble now. If you have a bit of a problem, then manage it now before going into the fall season.
---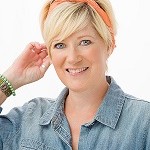 Jenny Peterson is an Austin, Texas-based garden designer with her own firm, J. Peterson Garden Design, as well as a writer, author and speaker. She specializes in designing, writing and speaking about gardens that enhance the quality of life, heal from the inside out and help to create balance and wellness.