The vast majority of us – about 80 percent – fall short on our New Year's resolutions. Be a part of the successful 20 percent by taking up organic gardening, and reap its many benefits in the process. Ringing in a new year is like turning the page to a blank slate.  Leave last year in the past: It's the perfect opportunity for a fresh start, and a fresh garden.
Plant Your Way to a Fulfilled Resolution
You've probably heard that organic products are trending – and for good reason. Organic foods decrease the risk of antibiotic resistance, pesticide consumption, and soil erosion. And you likely know that eating more fresh produce contributes to your healthy-living resolutions: What better way to eat more fresh produce than to grow it yourself and have it just outside the door? But, actually, the benefits of organic gardening go way beyond what you ingest.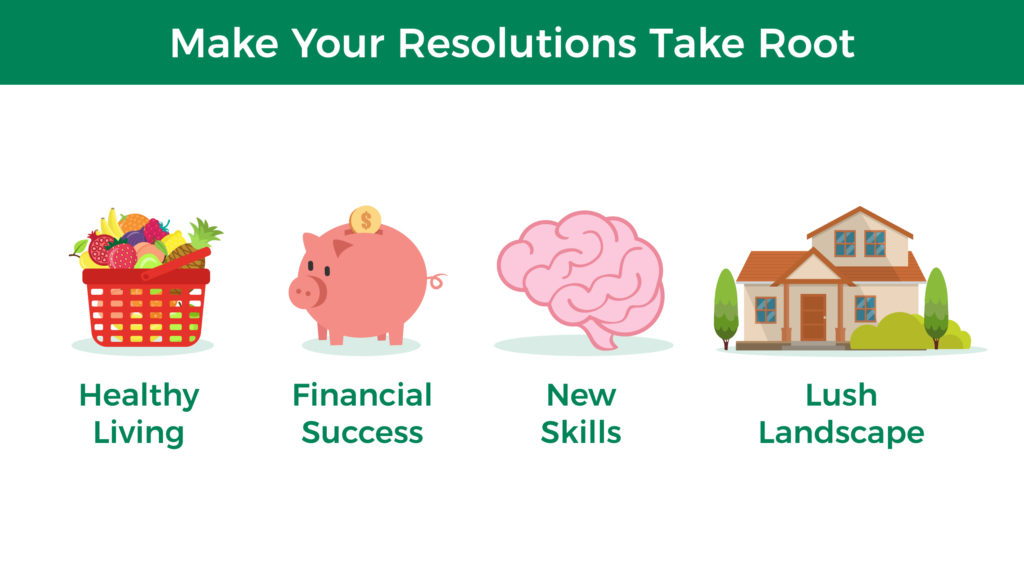 Resolution 1: Healthier Lifestyle
Aside from eating healthier, gardening makes for a great outdoor activity. In fact, gardening burns, on average, just over 200 calories per hour. Everything you do – from weeding to watering to harvesting your garden counts as exercise – and is much more active than couch loitering. Plus, at the end of your sweat sesh, not only will you be on your way to a healthier cardiovascular system, but you'll also have a beautiful garden.
Resolution 2: Save Money
Are you someone who'd really love to reap the benefits of eating organic produce, but after all that holiday shopping, it doesn't quite fit into the budget? Well, the great thing about produce is it's grown in the ground. And while your garden plot may not be able to produce enough fruits and vegetables to fill a store, it can still enrich your family's needs. Without the markups that come with the retail process, you'll be able to save money on groceries by growing your own.
Resolution 3: Learn a New Skill
There's a reason Master Gardeners are deemed masters: Green thumbs don't come easy. Gardening is a skill that is suitable for novices and experts alike. There's always more to learn when it comes to gardening, yet even beginners can produce rewarding blooms. If you're just starting out, our How To pages are great resources.
Resolution 4: Improve Your Home's Curb Appeal
Whether you're looking to sell your house or make it feel homier, plants, bushes, and trees can really improve your landscape. The curb appeal of your home is like a first impression to potential buyers, friends, and family, and it's the first thing you see when you come home at the end of each work day. From the value of a sale to your quality of life, a garden can do a lot to increase worth.
What to Know Before You Plant
So you're convinced organic gardening is good, and the new year is a fresh start to start something fresh. But, before you head out to stock up on Jobe's potting soil and fertilizer products, there are a few things you should know – because the thing about gardening is that we have to tag-team the process with Mother Nature.
The U.S. Department of Agriculture's plant hardiness zone map, dividing the country by average annual extreme minimum temperature, can help you decide which plants to cultivate. The zones on this map are measured from coldest (1) to warmest (13). In colder climates, perennials (the hardiest plants that sprout back up year after year) and evergreen trees like pines and spruce work best. As you go farther south, annuals can easily grow, but must be replanted each year as breaks in the growing season disrupt their roots under the soil. You may notice that cold climates tend to work best for cool-hued blossoms (typically ranging from white to blues and purples) while warmer climates are more suitable for warm-colored flowers (think: reds and oranges).
Keep in mind that the plants in your garden also rely on sunlight and water, so those are two very important climate factors that come into play. Cacti and succulents can survive the dry conditions, while water lilies grow directly on water. In that same vein, some plants require more sunlight (herbs, tomatoes, and strawberries) while others thrive in the shade (leafy greens, plums, and ivy).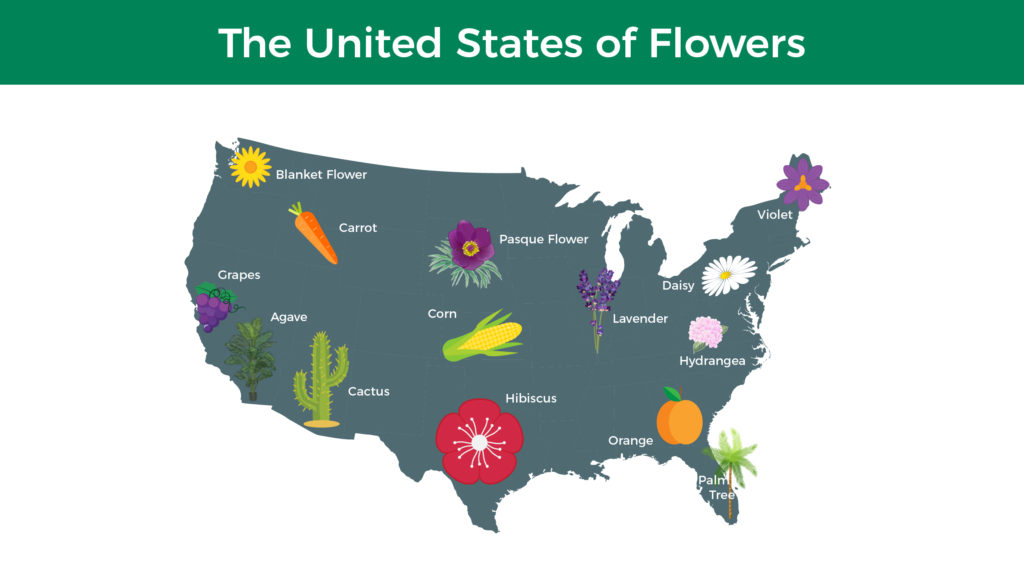 Growing seasons are also important to factor in, and they're largely determined by the first and last frosts of winter. Northern regions can expect a growing season from April or May through October while the Midwest should expect to see March through October growing seasons. Coastal and southern regions can experience a long growing season of February through November, and even some areas in Florida are year-round. There are techniques to extend your natural growing season, such as using plant protector accessories, greenhouses, indoor gardening, and container gardening.
Your Gardened, Contained
Container gardens can extend a growing season because they can more easily be moved indoors. Your front porch ferns can easily be moved inside to protect them from the first frost, something you can't easily do for plants in the ground. Another benefit of container gardening is the ability to redecorate your outdoor spaces as needed. Once you've planted something in a plot, you have to wait until at least the next growing season to change it up. If it's in a pot or other form of container – bike baskets, wagons, or coffee cans – you can easily move it to a different spot to accommodate new patio furniture and added plants.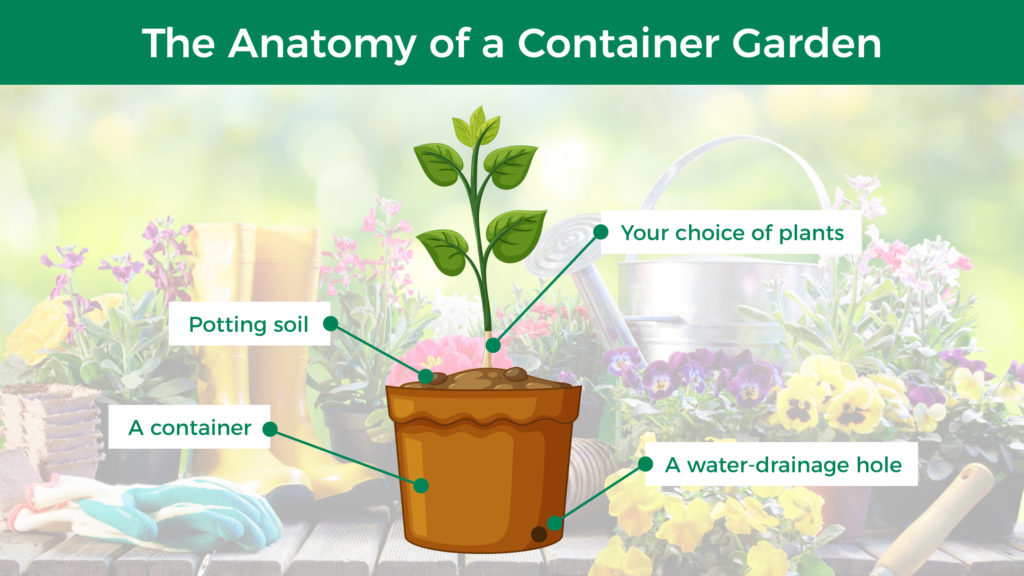 The versatility of container gardens makes them perfect for beginner gardeners, and they're much simpler to start than a full garden plot. All you need is some sort of container, potting soil, and your choice of plants. Mixing different textures, colors, and heights is a great way to add to the appeal. But don't discount the chic look of keeping it simple and sticking to one plant. The size of your container can vary – from the miniature version of kitchen herbs to large porch-side accents; but the larger the container, the easier it usually is to grow in it. No matter which container you use, be sure there's ample water drainage to prevent the roots of your plants from rotting.
Once you've selected your container, pick a soil that works best for your plant. At Jobe's we have several potting mixes specifically developed for various plants and water retention. Often container gardens are kept under roofs or even inside, so it's important to water them as frequently as your plant selections require. Without the nutrients of ground soil, container gardens also need regular feeding. Start by applying a proper Jobe's fertilizer every two weeks and adjust the frequency based on the health of your plants. To keep them looking their best, clean up fallen leaves and prune back excess stems.
Sow Success with Jobe's Organics®
Organic gardening provides a multitude of benefits, from promoting an active lifestyle to giving your home a new look. This new year, start reaping the benefits of gardening with the help of Jobe's. Our line of organic garden products makes it easy for you to grow happy, healthy plants that are good for you and the environment. Meet your resolutions, and make this year your greenest year yet.