If you've looked for gardener courses or for additional training in your pursuit of becoming a better gardener, you've probably come across the words "Master Gardener" or "Master Gardening Program." Becoming a Master Gardener can be particularly rewarding, both personally and for your community. It takes dedication, a desire to expand your knowledge, and a volunteer spirit. Jobe's is proud to work with Master Gardeners across the nation, and we want to help you decide if that is for you – and how to become one.
What is a Master Gardener, Anyway?
Master Gardener isn't simply a designation for someone who is good at gardening, but rather a specific title achieved through skill, hard work, and a passion for people. It is a designation handled by the United States government and land-grant universities. These universities offer Master Gardener programs through the Cooperative Extension System of the United States Department of Agriculture.
As a result, Master Gardeners are often also called Extension Master Gardeners (or EMGs). Master Gardeners have two main traits that distinguish them:
A commitment to being a community resource for gardening knowledge as well as a desire to teach and mentor other gardeners
A dedication to volunteering and community service
Master Gardeners vs. Horticulturists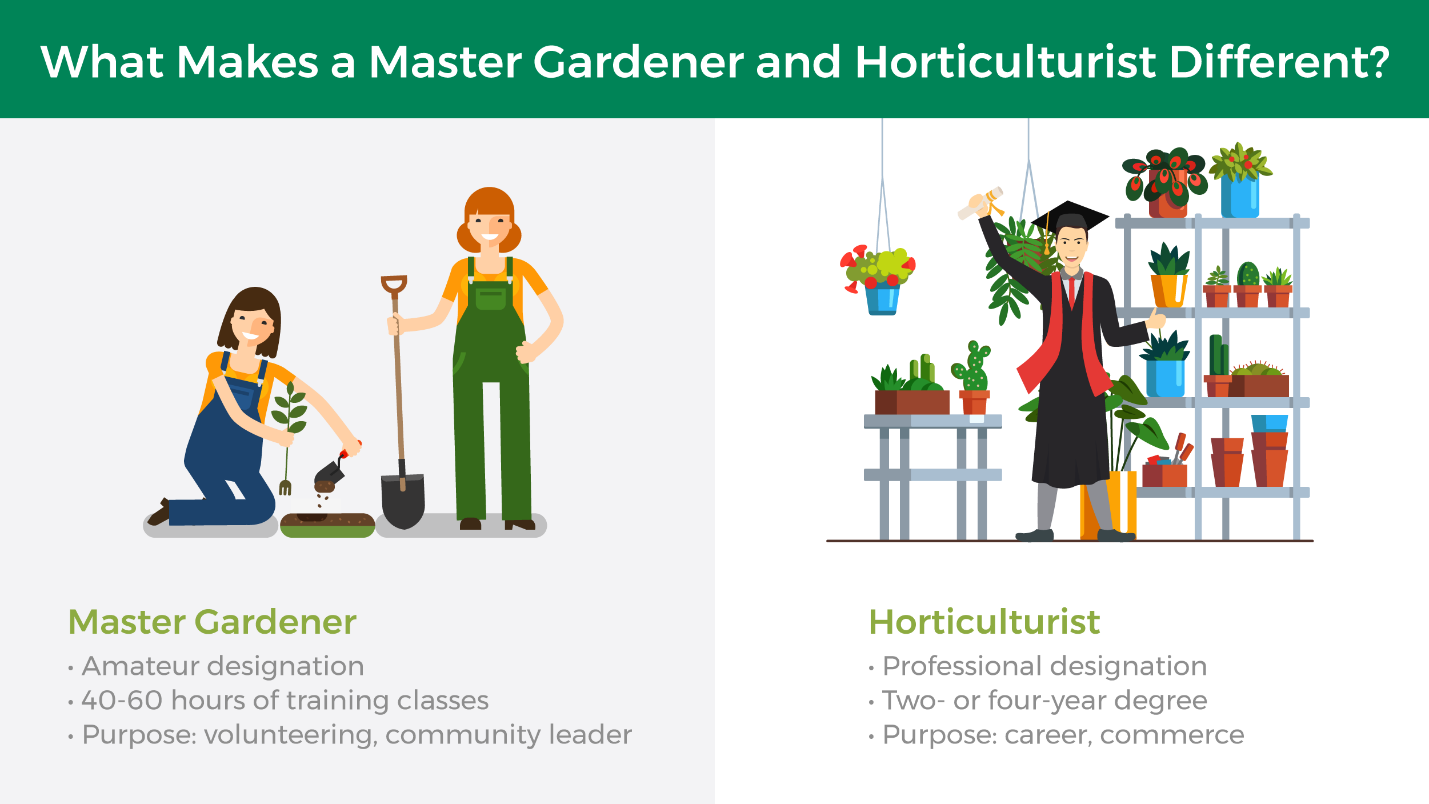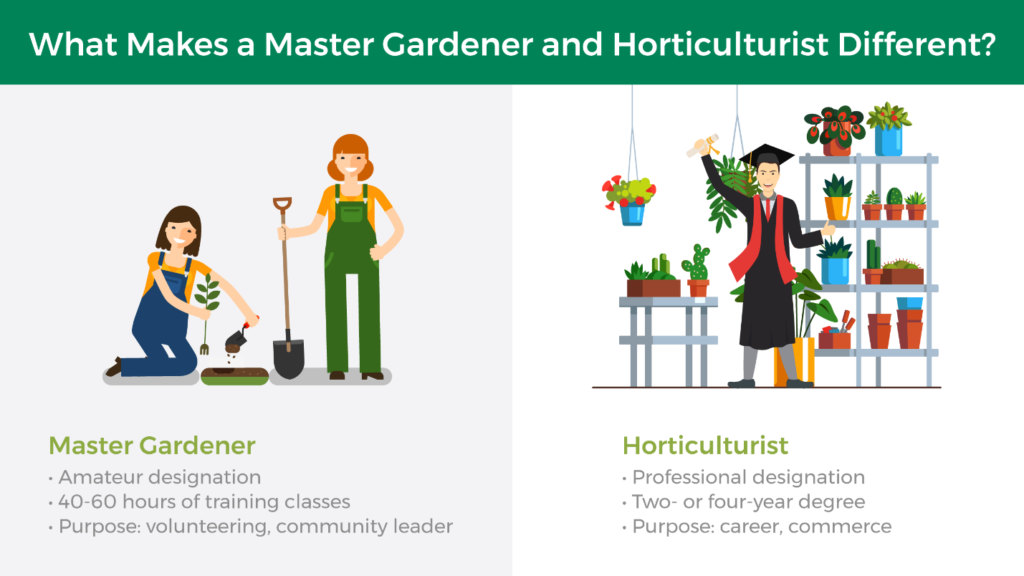 To those unfamiliar with Master Gardener programs, the name may make it seem that Master Gardener is a more important designation than horticulturist, or that the two require similar levels of skill and professionalism. While Master Gardeners and horticulturists share a passion for gardening, they are in fact quite different.
Horticulturists are professional gardeners with an academic degree who are trained in horticulture, gardening, and land management (other related degrees include landscape design and landscaping, which are often distributed by a university's horticulture department). Master Gardeners, on the other hand, are specifically not professionals with an academic degree in horticulture or a related field.
In other words, Master Gardener is an amateur designation, while horticulturist is a professional one. There is a skill and passion overlap, of course, but becoming a Master Gardener isn't a substitute for getting a professional degree in a gardening-related field.
Becoming a Master Gardener
The specific Master Gardener requirements do vary depending on where you live. Since Master Gardner programs are handled on the county level by land-grant universities, each university has a different collection of requirements both to apply to a Master Gardener program and to graduate from one.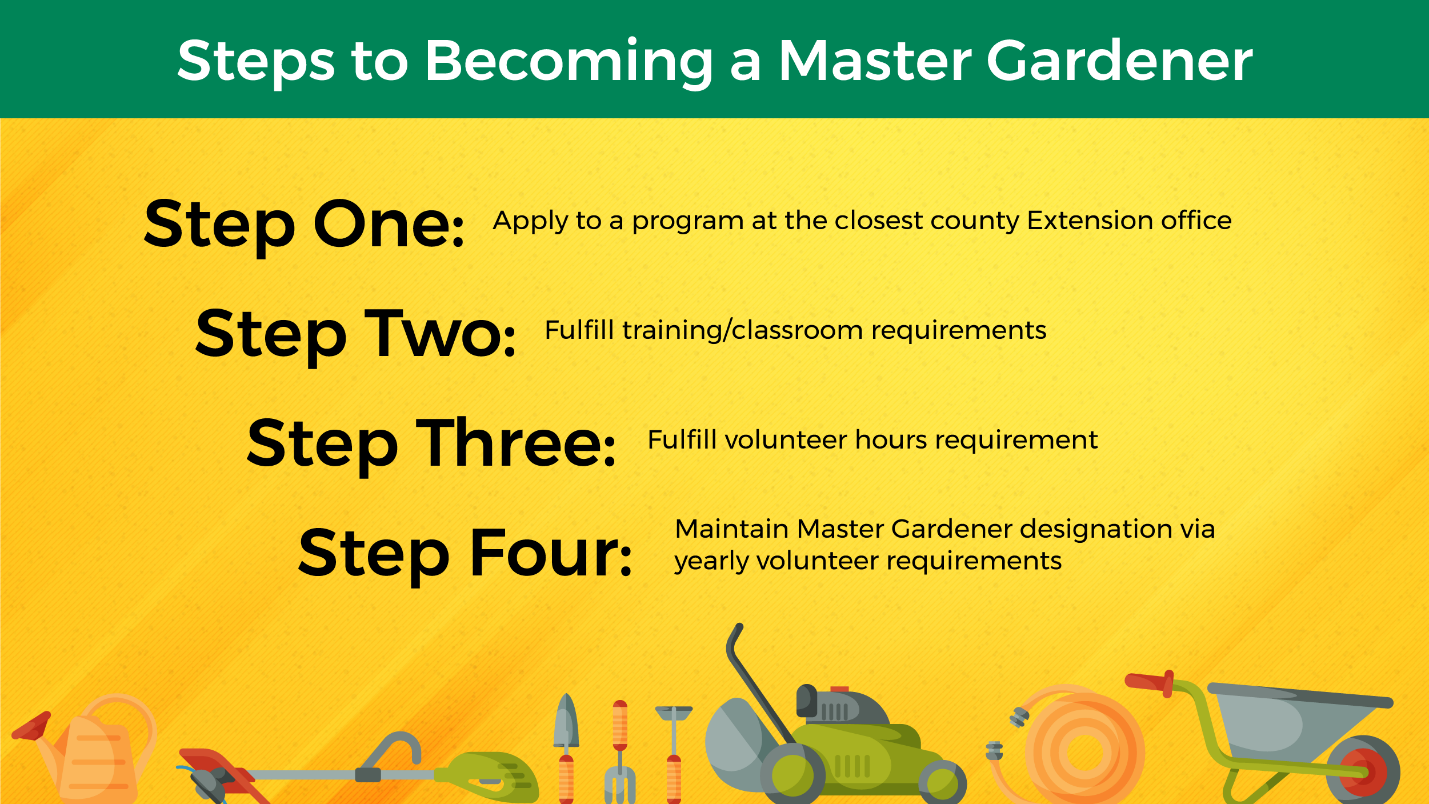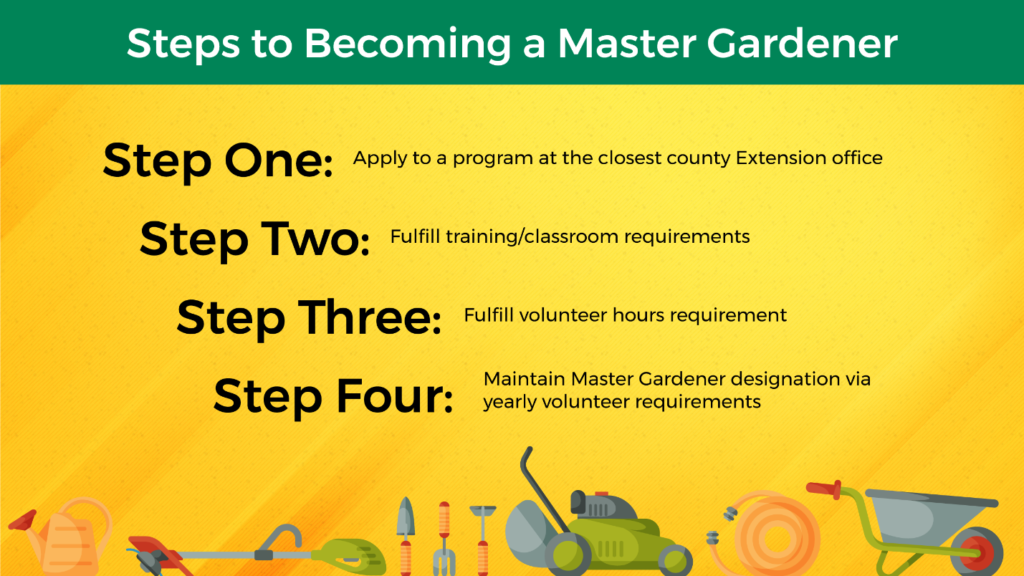 Application Process
Master Gardener programs do not require specific backgrounds or demand specific requirements to apply. However, while Master Gardener programs are open to everyone, there are limited spots open in any given enrollment period. You'll be able to make your application more attractive by highlighting any gardening and volunteer service you might have.
In order to apply to become a Master Gardener, you'll need to contact your local Extension office. Programs are presented by land grand universities but are done so through county-level Extension offices. Application standards, processes, and timeframes depend on which state university is administering the Master Gardener program.
In addition, you will need to pay a program fee should you be accepted. These class fees vary but tend to cost between $100-200.
Classes
All Master Gardener programs require participation in gardening classes and training. Again, while specifics vary state-to-state and even university-to-university, classes are generally between 40 hours in length and 60 hours in length. Subjects in these classes include, but are not limited to:
Vegetables
Houseplants
Compost
Fruits
Landscape Design
Wildlife Management
Botany
Plant Pathology
Lawn Care
Pruning
Soil and Fertilizer
Classes are generally taught at a university or community college by university faculty, local experts, Master Gardeners, and other educators. In some cases, Master Gardener candidates can opt in to additional training on top of a core curriculum.
Volunteer Requirements
One of the essential parts of becoming a Master Gardener is volunteering. As part of the Master Gardener program, candidates must fulfill a volunteer hours requirement. Again, the hour amount varies, though it tends to be similar to the amount of required classroom hours.
Depending on your location, specific volunteer requirements can vary widely. Some programs have minimal oversight on what kinds of volunteering will count. Others specifically mandate given hours in specific areas or in authorized spaces, and some require EMG hotline shifts (where they exist).
Volunteering requirements do not cease after you receive your initial certification. In order to maintain your status as Master Gardener, there is an annual volunteer obligation you must meet. You might also be required to take additional classes or training to maintain your certification.
Alternatives to Becoming a Master Gardener
Becoming a Master Gardener can be a rewarding experience, but it isn't for everyone. The initial training requirements are simply too high of an initial time commitment for some. In addition, maintaining the necessary volunteer hours year after year after becoming a Master Gardener can be difficult for those with busy jobs, active families, or other hobbies.
Furthermore, to avoid conflicts of interest, it is the policy of Master Gardener programs that Master Gardeners not use their title in any form of commercial advertisement. As a result, the Master Gardener designation is a poor fit for those looking to advance any gardening-related business endeavor.
There are, however, alternatives to becoming a Master Gardener.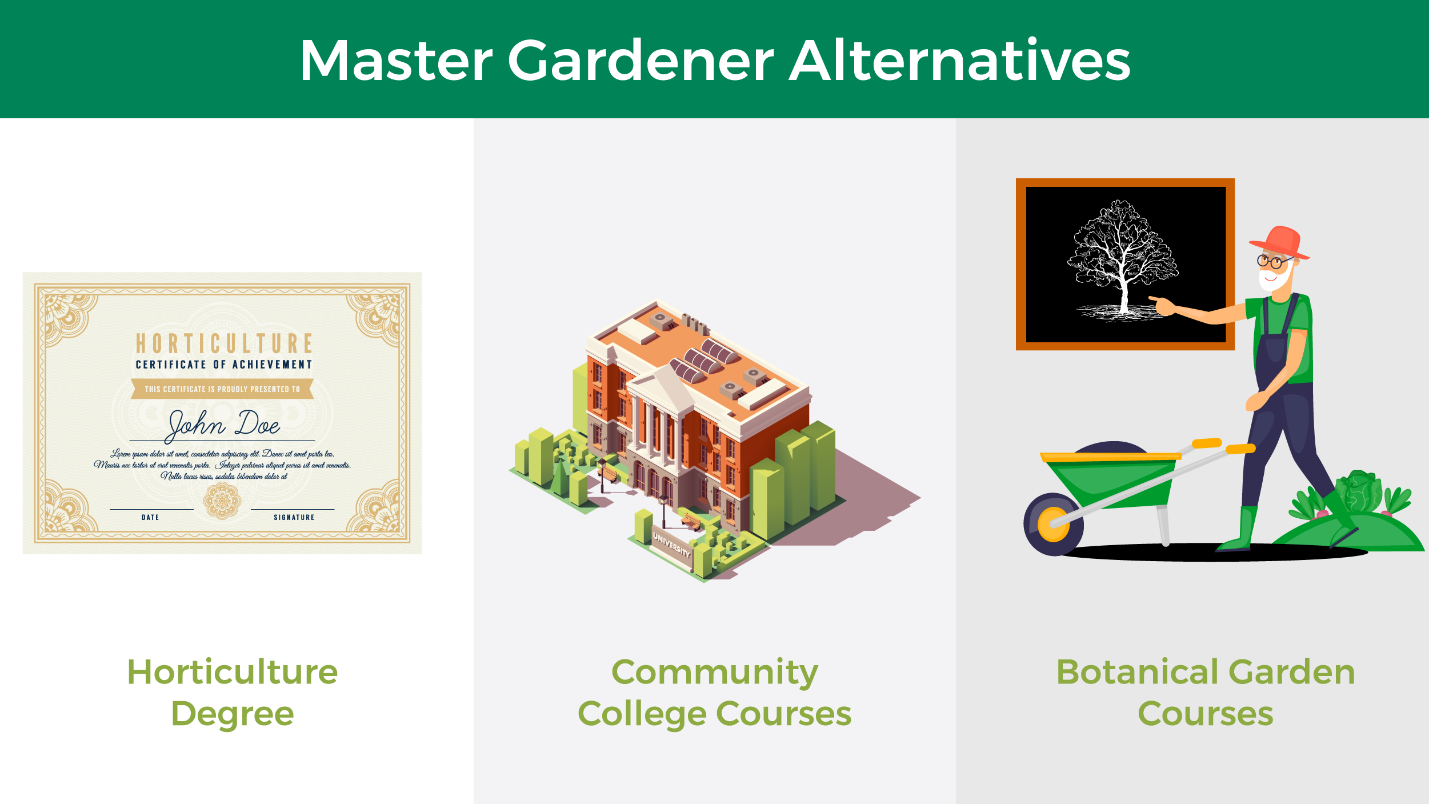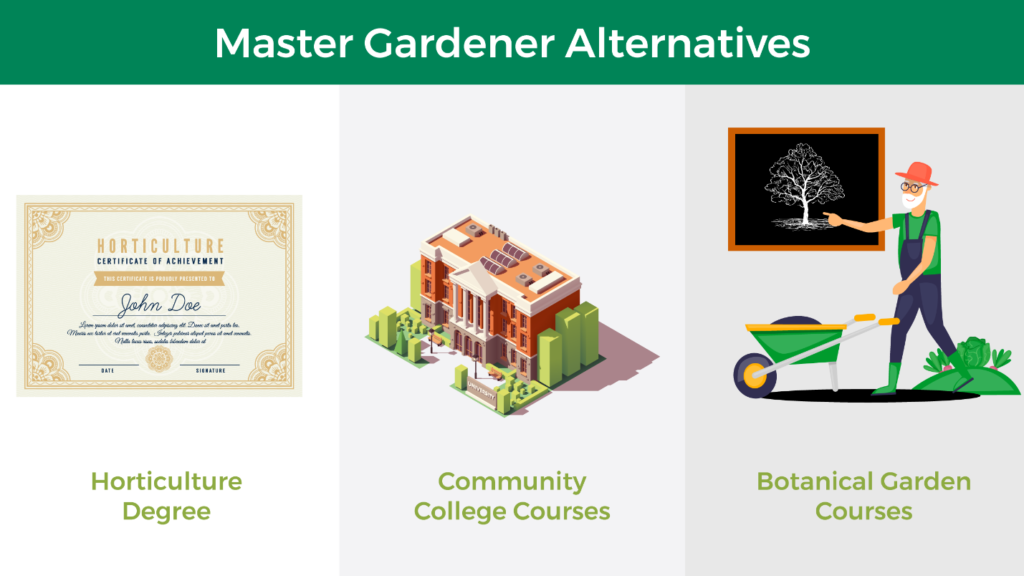 Horticulture and Professional Degrees
For those looking for a more robust, professional education that they can use on resumes and in commercial situations, a degree in horticulture or a related field is a better option than Master Gardener programs. Bachelor's degrees in horticulture are offered at many universities, and community colleges often offer certificates and associate's degrees in horticulture as a less intensive alternative.
Gardening Courses Through Community Colleges and Botanical Gardens
For those looking to expand their gardening knowledge but aren't interested in a Master Gardening program or an official academic degree, community colleges sometimes offer non-degree gardening courses through continuing education programs. Botanical gardens also usually offer some sort of adult education programs as well. Both types of classes are ideal for those looking to fill in a specific knowledge gap or learn on a less formal, case-by-case basis while paying a per-class fee.
The Beauty of Becoming a Better Gardener
Whether you decide to pursue the path to Master Gardener or are just looking to expand your gardening knowledge through courses or other means, Jobe's is here to stand with you at every step. We offer some of the best environmentally-safe gardening products available, and we are committed to making communities better through community engagement projects and cooperation.